Innova Crysta
6+1&7+1 seat option
| | |
| --- | --- |
| 8hrs - 80km | Rs.4500/- |
| Extra km | Rs 22/- |
| Extra hrs | Rs.350/- |
Outstation services
Innova A/c
6+1&7+1 seat option
| | |
| --- | --- |
| 8hrs - 80km | Rs.3250/- |
| Extra km | Rs 20/- |
| Extra hrs | Rs.300/- |
Outstation services
Ertiga A/c & Tavera A/c
6+1seat option
| | |
| --- | --- |
| 4 hrs - 40km | Rs.1500/- |
| 8hrs - 80km | Rs.3000/- |
| Extra km | Rs 18/- |
| Extra hrs | Rs.200/- |
Outstation services
Etios A/c &Swift Dzire A/c
4+1seat option
| | |
| --- | --- |
| 4 hrs - 40km | Rs.1300/- |
| 8hrs - 80km | Rs.2200/- |
| Extra km | Rs 16/- |
| Extra hrs | Rs.225/- |
Outstation services
Traveller A/c
11+1seat option
| | |
| --- | --- |
| 8hrs - 80km | Rs.5000/- |
| Extra km | Rs 22/- |
| Extra hrs | Rs.400/- |
Outstation services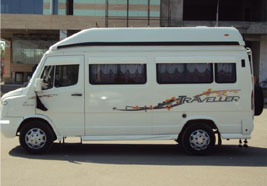 Traveller A/c
16+1seat option
| | |
| --- | --- |
| 8hrs - 80km | Rs.5500/- |
| Extra km | Rs 24/- |
| Extra hrs | Rs.400/- |
Outstation services
Bus A/c
49 seat option
| | |
| --- | --- |
| 8hrs - 80km | Rs.10,500/- |
| Extra km | Rs 50/- |
| Extra hrs | Rs.800/- |
Outstation services
Terms & Conditions
Above rates are inclusive of chauffeur including vehicle rent, fuel, halting charges and driver bata.
For Outstation trip minimum charge is for 200 Kms/150 kms. Per day or actual run which ever is higher
Mileage and time are noted from Garage to Garage. The duty slip carried by driver will be signed by user and presented along with bill for payment. Bill will be presented on immediate/weekly/fortnightly/monthly basis
Toll, Parking interstate permit extra and to be paid by the customer.
Trivandrumtaxi shall not be responsible to the customer for any loss of any kind of materials.
Duty time for Driver doing packages will be 12 hours, 1 day means 12 hours.
The above mentioned rates may vary depending on the market rate with out prior notice.
If any break downs vehicle will get replaced, and it will take time to replace depends upon location. Customer will be responsible for all his personal expenses, like taking hotel , restaurant, auto / taxi.
All balance payment to be paid to the driver while he request.
All telephonic conversation are recorded to avoid future misunderstanding.